Garden Fresh as it's Meant to Be
Nothing beats the "fresh from the garden" taste–not to mention the rewarding feeling of growing your food for your family. At Vander Giessen Nursery, we carry a wide selection of edibles, from Apples to Zucchini! Whether you're planting a vegetable garden or want to start your own orchard of fruit trees, we can help. Some of what we carry includes:
Fruit trees (apple, cherry, peach, pear, plum, and combination trees) — see our 2020 selections here
Blueberries
Raspberries
Thornless Blackberries
Grapes
Rhubarb
Vegetable starts
Herbs
Seeds
Many of our edibles are seasonal, so please call before you visit to ensure we have what you need in stock.
While you're visiting, be sure to pick up the necessary plant starters, organic fertilizers, bagged or bulk compost, and insect control to give you a full season of productive, worry-free edibles. Whether you're a first-time gardener or a lifelong enthusiast, we're here to help your garden grow!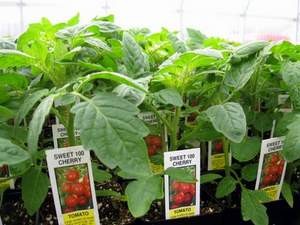 Tomato Days–Don't Miss Out!
One of our most popular events each year is our annual Tomato Days sale! Each year in early May, we offer tomato starts for only 49 cents each. Customers visit us from far and wide to take advantage of this steal of a deal. Don't miss out on the event–sign up for our mailing list at the bottom of this page and we'll keep you up to speed on when the sale is for the coming year.