Please note that we are sold out of hanging baskets for 2020. Thank you to all who purchased from us this year!
Unmatched Color & Quality
Vander Giessen Nursery is your home for the famous Lynden Baskets–Lynden's beautiful flowering hanging baskets! At Vander Giessen's, we sell only our own baskets, each one planted and grown right in our own greenhouses on-site. Unlike baskets you'll buy at other nurseries or stores that come on trucks from large growers, our baskets never leave their spot in the greenhouse until they're ready to go home with you.
Many Vander Giessen customers come from as far away as Seattle and beyond to shop our beautiful selection of hanging baskets each spring–and we welcome you to as well! Lynden Baskets also make a great gift for any occasion or holiday, and if you can't pick out the perfect mix or hanging baskets are out of season, take home a gift card the recipient can use for the purchase of a hanging basket.
This year, visit us and discover the difference that Vander Giessen quality makes to the beauty and longevity of your hanging baskets.
At Vander Giessen's, we offer three options for purchasing your beautiful Lynden Baskets–custom planting, basket reservations, and shop-and-go. Choose the best option for you and let us help make your patio or deck an oasis this summer. Details on each purchase option are as follows:
Custom Planting
Call or stop in between November and mid-March to pick out the plant varieties, colors, and basket sizes to get the exact hanging baskets you want, grown to perfection. For baskets ready for pickup by Mother's Day, please place your order before Valentine's Day; for baskets ready for pickup by Memorial Day, please order by mid-March.
Please note that due to space limitations in our greenhouses, we are unable to guarantee space for Custom Planting orders beyond mid-March. Contact us to check on availability.
Lynden Basket Reservations
Visit us between late February and the end of April to choose your hanging baskets from our hundreds of options, available in dozens of combinations. After we help you pick out the exact baskets you want, we will tag them and continue growing them in our greenhouses. Baskets are ready for pickup between late April and Mother's Day. Please note that as part of our basket reservation service, we require that all baskets be picked up by the Saturday before Mother's Day; should you wish to leave them at the nursery beyond Mother's Day, we will gladly continue to water and fertilize your baskets for $1 per day per basket, due upon pickup.
Shop-and-Go
Visit the nursery from mid-April through early July to pick out a beautiful, blooming hanging basket ready to take home or give as a perfect gift to a friend or family member. Due to high demand, many of our more popular mixes may sell out by mid-May, so we encourage visiting earlier in the season for the widest selection.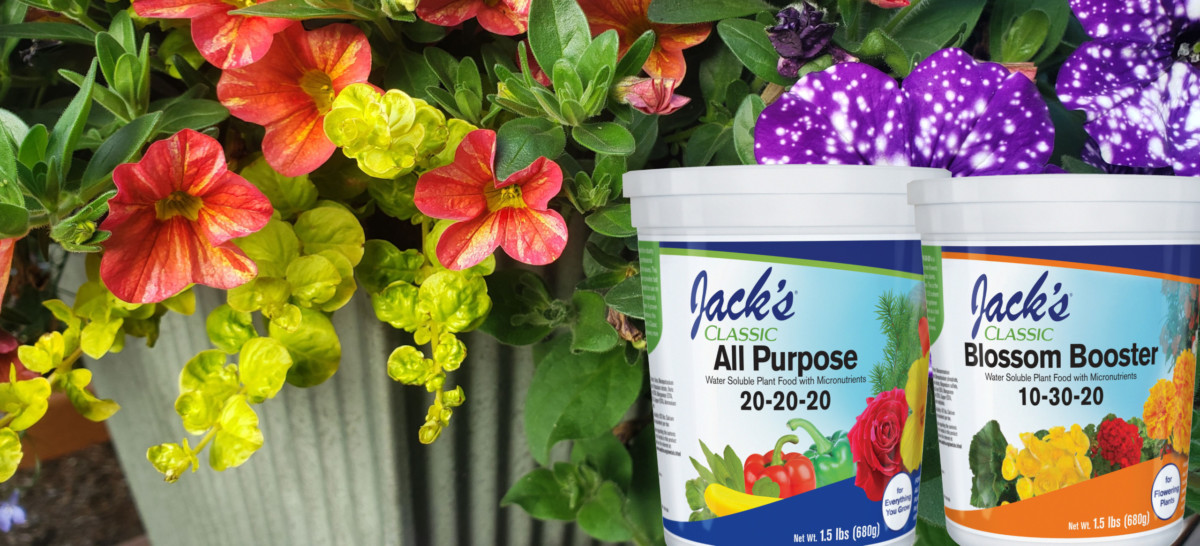 Keep your Lynden Baskets looking their best all summer with Jack's Classic water-soluble fertilizers. Unrivaled in quality, Jack's provides the best blend of nutrients for your flowers and will promote vigorous growth and profuse flowering. For most of the hanging baskets and annuals we sell, we recommend using Jack's Classic Dynamic Duo, a combination of Jack's Classic All Purpose and Blossom Booster blends. Feed weekly, alternating each week between the two blends. Pick up some Jack's Classic for your plants when you stop in at the nursery–it's available year-round.